Bitcoin (BTC) has finally begun its long awaited downtrend. The whales and market makers were aware that a lot of traders were waiting for this so they pumped the price hard and shook them out. Yes, most of them are already out either by their own will or forced out and liquidated. The daily chart for BTC/USD shows that the price pumped hard to test the previous market structure but it ended up breaking past that market structure within the same day. The candle ended up closing well below the previously broken market structure but the manner in which it pumped was very suspicious. We have seen such moves in the market after bad news regarding some of the exchanges or the people connected to it.

Sooner or later, the SEC and other regulatory bodies are going to start knocking on some doors and it seems like that is going to happen a lot sooner now especially after the unprecedented manipulation recently. The CEO of Crypto Capital was recently arrested and it is likely that he is connected to some powerful people and businesses in this market. This could be a major breakthrough with regards to laundering and manipulation in this market. This is why even if put technicals aside for a while which by the way are screaming bearish as the downtrend remains intact and the daily candles have declined leaving big wicks to the upside, we can connect some dots regarding some of the developments this year with regards to law suits in this market to ascertain what might happen next.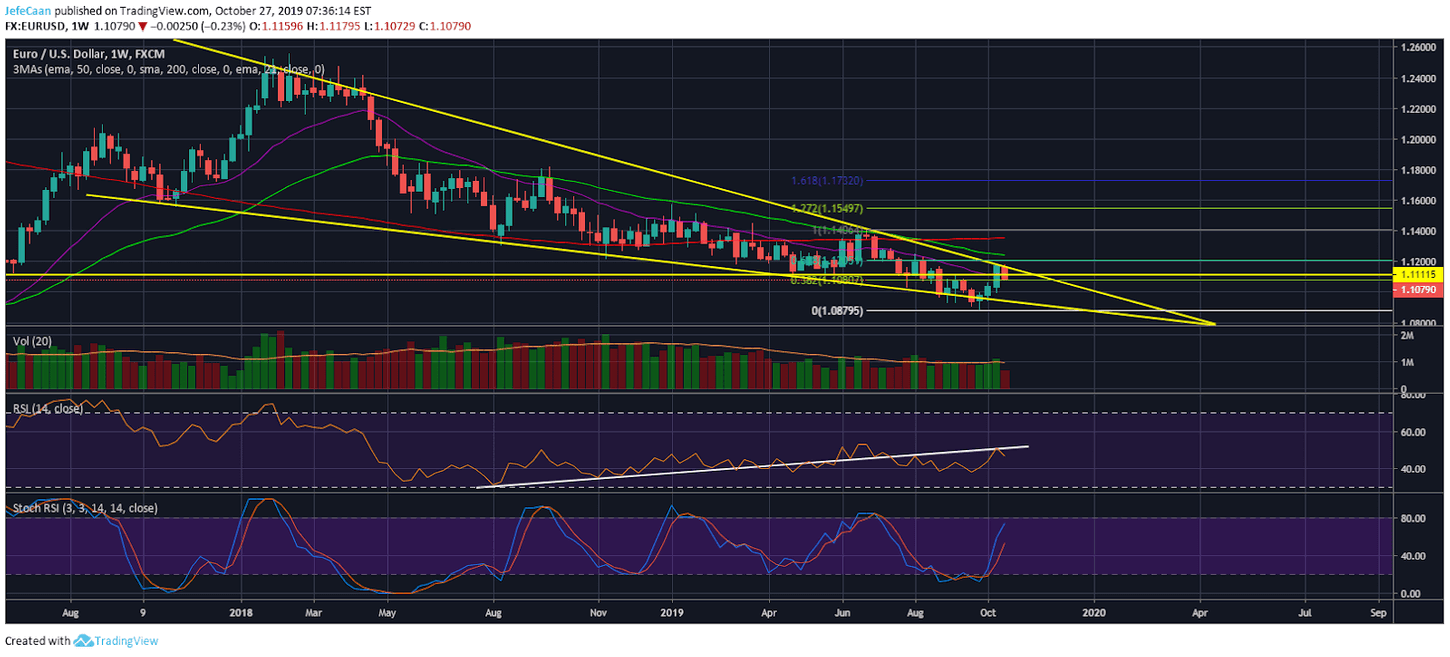 I would not be surprised if we see further manipulation short term but it cannot go on for long. The weekly chart for EUR/USD shows us how the pair has declined down to the 38.2% fib retracement level after it fell back within the falling wedge. This has now increased the probability of this falling wedge being invalidated and the pair declining further as it did in June. This will put a lot of sell pressure on BTC/USD and the rest of the cryptocurrency market. RSI on the weekly chart for EUR/USD has declined after running into a strong resistance. It is likely that it might decline further in the weeks ahead.
Bitcoin (BTC) has now exposed its next moves. Regardless of what might happen short term as the whales and market makers play their game in the absence of regulation, the fact of the matter is that a decline from current levels is imminent and frankly, I for one am not convinced anymore that we might find a floor between $1,200 and $1,800. I would not be surprised to see Bitcoin (BTC) decline to a triple digits price because not only has trust been shattered after the recent moves, Bitcoin (BTC) has been made into more of a joke by the small minority of people who call the shots and for this reason serious investors and institutions might want to stay away from this market for a long time till it matures.
Source: Cryptodaily