Bitcoin options are financial derivatives that enable traders to bet on where the price of bitcoin will trade in the future. Specifically, bitcoin options provide the holder with the right, but not the obligation, to buy or sell an asset at a specific price on a pre-defined date in the future.
In this guide, you will discover the two leading bitcoin options trading platforms and how to get started with trading bitcoin options on both of them.
Deribit
Launched in 2016, the Amsterdam-based bitcoin derivatives trading platform Deribitenables traders to buy and sell Bitcoin and Ethereum futures and options.
To trade bitcoin options, users need to sign up and access the BTC Options dashboard. On the dashboard, you will then see all available BTC options, including their bid and ask prices, strike prices, implied volatility, volumes, delta, and maturities.
To buy a call option to bet on the price of bitcoin hitting $9,250 on June 7, for example, you will need to pay the ask price of 0.015 BTC ($126.53). Should the price of bitcoin trade above $9,250 on June 7, your purchased call option will be "in the money" and the profit you will make will be the difference between the price of the option (also known as the premium) and the amount your options closed "in the money".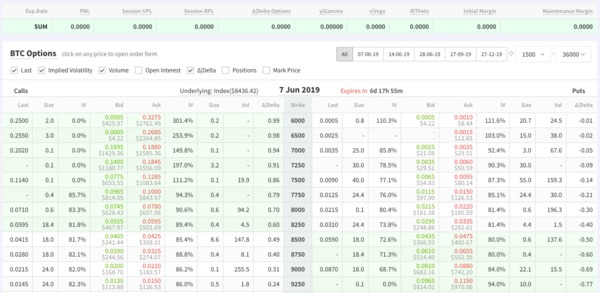 Quedex
Launched in 2017, the Gilbratar-based bitcoin futures and options trading platform Quedexenables traders to buy call and put options on bitcoin with a maturity of up to three months. The platform works in a similar manner to Deribit in that you have to sign up and access the options trading portal, and then choose the call or put option you want to purchase that suits the directional view you want to express.
For a maturity out to three months, you can choose from a range of bitcoin options listed. To buy an option, you will have to purchase it at the ask price for the strike price and maturity that suits your trading needs.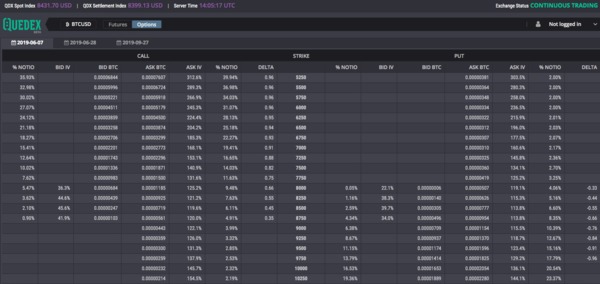 It is important to note that bitcoin options are not for beginners. Unless you have prior experience with financial derivatives trading, the steep learning curve that you will face while learning the in's and out's of bitcoin options trading, including the potential losses involved, may not be worth it for newcomers.
For experienced traders, however, bitcoin options can be an excellent tool for betting on the price of bitcoin using leverage.
For example, you could spend only a few hundred dollars on a bitcoin call option with a strike price of $12,000 that matures in September. If the price of bitcoin then shoots past that mark to trade at over $15,000 at the option's maturity, then you could generate over 100 percent return on investment. If the price ends up trading lower than the strike price, the option will expire and you will lose the amount that was paid for the option.