As a year comes to a close, BTC prices are stable and bullish. Still, investors are edgy, and unless otherwise, prices surge past key liquidation levels then we shall retain a neutral stand. At the moment though, our attention shifts to a new report by Blockchain Transparency Institute (BTI).
According to BTI, up-to 80 percent of mainstream exchanges where traders get to exchange main coins for altcoins are Wash Trading. Wash trading is where an exchange creates a false impression that there is demand by simultaneously buying and selling the same asset. It is misleading, and in regulated exchanges, the practice is unscrupulous and illegal. From the list Binance, BitFinex and Liquid attract real volumes.
"Included in this report we have calculated the true volume of the CMC top 25 BTC trading pairs. Most of these pairs actual volume is under 1% of their reported volume on CMC. We noted only 3 out of the top 25 pairs not to grossly wash trading their volume, Binance, BitFinex, and Liquid."
Surprisingly—as per the report, the OkEx seem to be involved in wash trading and "top 30 traded tokens to be engaging in wash trading".
"OKEx has been moved to our Exchange Advisory List as we found just about all of their top 30 traded tokens to be engaging in wash trading when processed through our algorithms.  It appears they have benefited the most from the CMC referral traffic, as our estimated adjusted volume for them would still keep them in the top 10."
Bitcoin (BTC) Price Analysis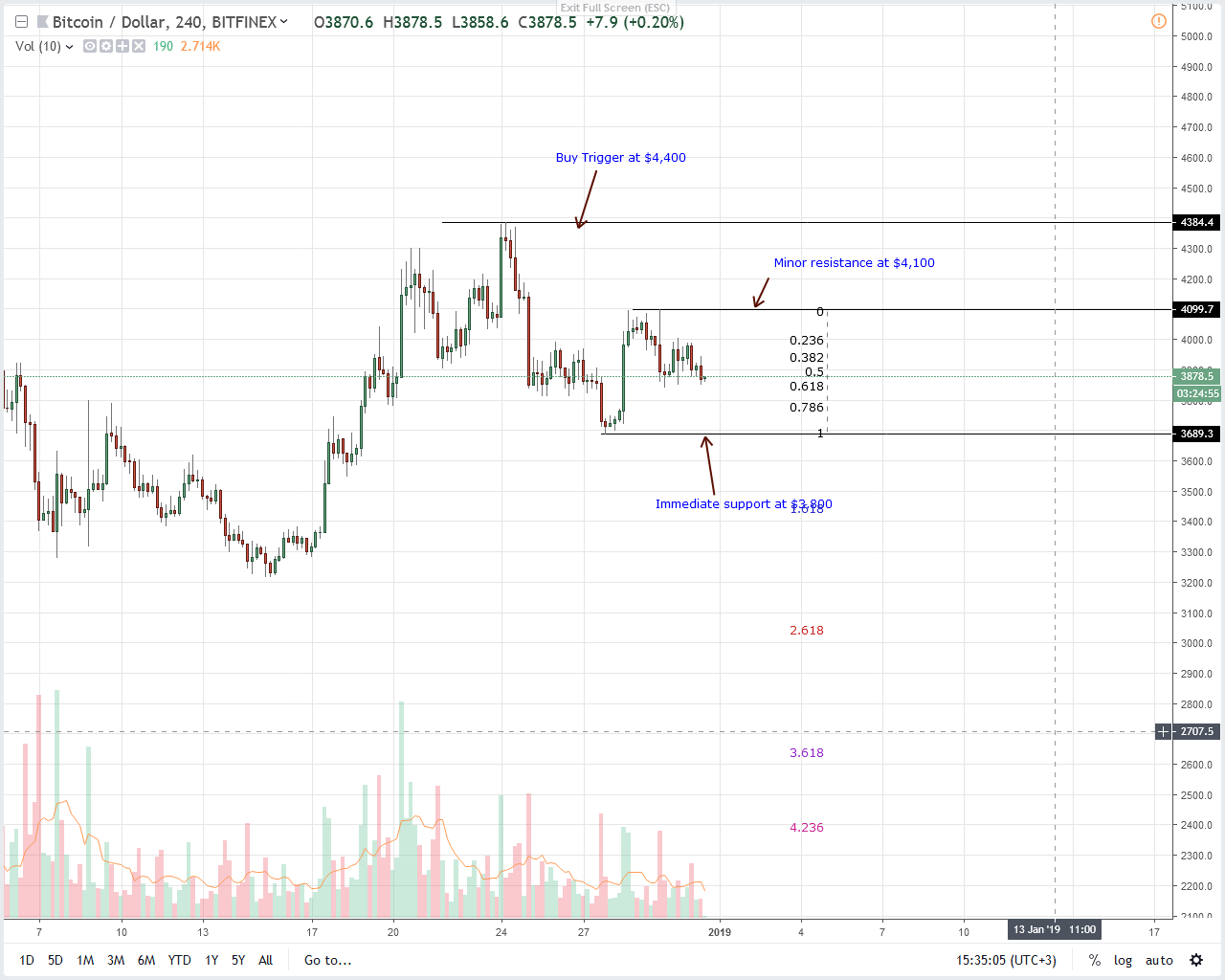 Statistics show that Bitcoin is up 0.4 percent in the last hour at the time of press but down 5.2 percent in the previous week. Because of events of the past two weeks, we retain a bullish outlook on BTC. While conservatives can take a neutral stance at the moment, aggressive traders can fine tune their long entries in lower time frames because of Dec 28, 1500 HRs high volume bull bar which reasserts bulls of the week ending Dec 23. If we paste a simple Fibonacci retracement tool on Dec 28 high low, then we realize that BTC is finding support at the 61.8 percent correction level.
As such, aggressive traders can take long positions at spot prices with stops at 78.6 percent level at $3,750. Alternatively, patience can prevail, and great opportunities are available once prices edge past Dec 28 highs of $4,100.This is our shorter BTC/USD trade plan:
Buy: Spot, $4,100
Stop: $3,750, $3,900
Target: $4,400, $5,000
All Charts Courtesy of Trading View
Source:::  Newsbtc
Author: Temitayo Olojede , temity@bitkonga.com