Even if there are regulatory questions about the legitimacy of digital assets and other blockchain derivatives as cryptocurrencies, these solutions are finding use cases. Bitcoin is especially an innovation borne out of necessity, and ten years later, the asset has been disrupting thanks to its inherent properties as privacy, speed, and general efficiency. Furthermore, there is solid development as far as off-chain solutions are Lightning Network is concerned. The network capacity is up 13 percent to 511 BTCs or $1,939,469.35 at the time of press.
The coin's use is swelling, and after two meetings, a governmental committee set up to investigate whether cryptocurrencies deserve banning in the second most populous country in the world is suggesting otherwise.
Already, the RBI–the central bank, prohibits banks under its oversight from dealing with cryptocurrencies. Back in December, a legislative panel meeting recommended a complete ban reasserting the central bank's April stand. After the latest meeting, the committee said the topic itself is complicated though they have "taken inputs from cryptocurrency exchanges and experts."
A senior participant in attendance had this to say:
"We have already had two meetings. There is a consensus that cryptocurrency cannot be dismissed as completely illegal. It needs to be legalized with strong riders. Deliberations are on. We will have more clarity soon."
Bitcoin (BTC/USD) Price Analysis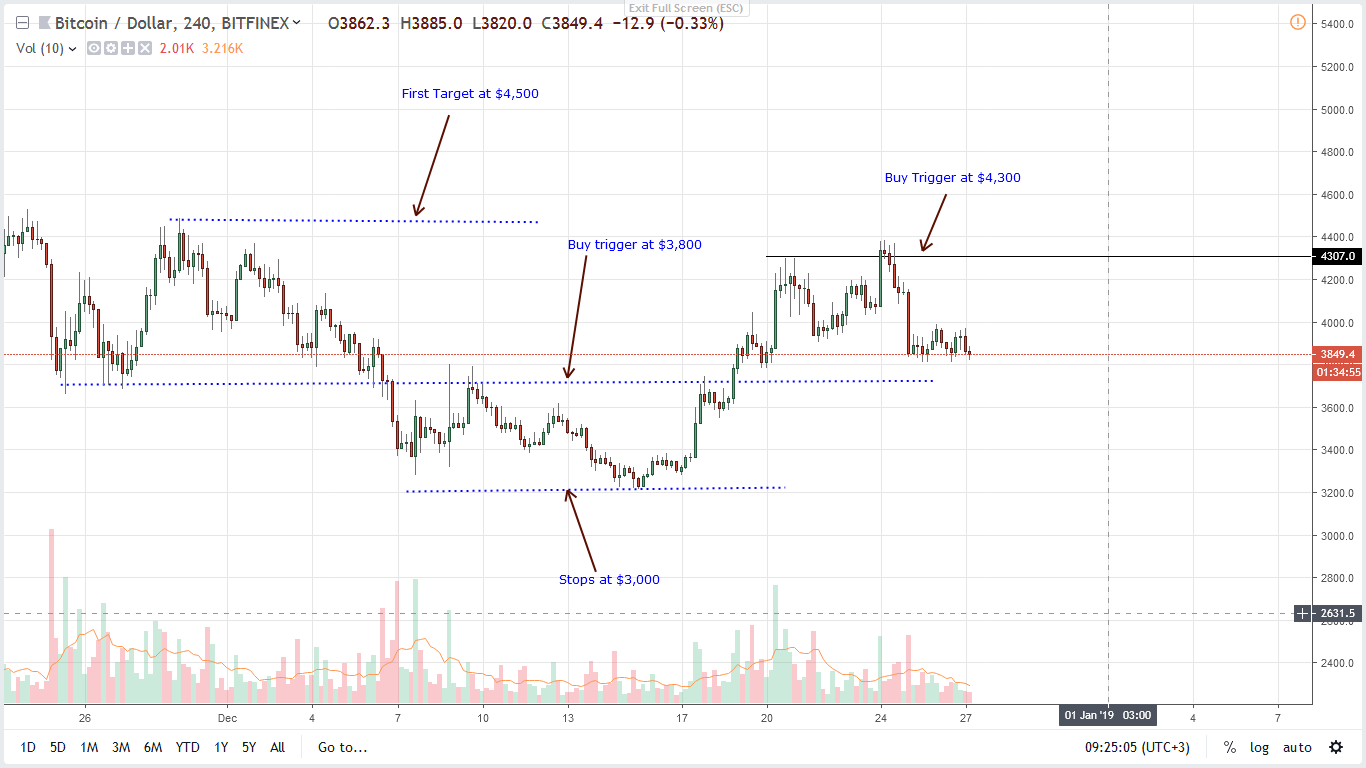 The community is confident, and even after 12 months of lower lows, there is a consensus that the market is, at last, bottoming up. From a top-down approach, sellers might be in charge, but after the week ending Dec 23 solid bull bar, we now have a double bar bull reversal candlestick with decent volumes.
It is why we suggest loading up in lower time frames whenever there are bullish signals. In the 4HR chart, prices are range-bound and Dec 25, 0300 HRs is conspicuous. For bulls to be in charge, then we must see strong price upswings reversing these losses at the back of above average volumes.
Support is at $3,700 previous resistance now support. Trend continuation will print once there are gains above $4,300 or Dec 23 highs. Otherwise, losses below $3,700 could see Bitcoin prices tumble towards $3,200.
Buy: $4,300
Stop: $4,000
Target: $4,500, $5,000
Source:::  Newsbtc
Author: Temitayo Olojede , temity@bitkonga.com