The total crypto market cap failed to stay above the $110.00B support and declined sharply.
Litecoin (LTC) price is consolidating losses above the $30.00 support level.
Bitcoin cash price corrected lower and it could test the $110 support level.
Tron (TRX) declined more than 5% and it broke the $0.0260 support area.
Stellar (XLM) price is under a lot of pressure below the $0.0900 and $0.1000 resistance levels.
The crypto market failed to gain momentum, resulting in a fresh drop in bitcoin (BTC), Ethereum (ETH) and ripple. Other altcoins like litecoin, bitcoin cash and stellar also extended losses.
Bitcoin Cash Price Analysis
Bitcoin cash price traded above the $116 resistance recently against the US Dollar. However, BCH/USD failed to break the $120 resistance and later started a fresh decline. The price declined below the $116 and $115 support levels to move back in a bearish zone.
Going forward, there could be more losses below $112 and the price may even retest the $110 support level in the near term.
Litecoin (LTC), Tron (TRX) and Stellar (XLM) Price Analysis
Litecoin price made another attempt to clear the $33.00 and $34.00 resistance levels. However, LTC failed to gain momentum above $33.00 and declined below $32.00. The price is currently trading near the $31.00 level and it could soon test the $30.00 support before a fresh upward move.
Tron price failed to hold gains above the $0.0275 level and later declines. TRX traded below the $0.0270 and $0.0265 support levels. The price is now trading below $0.0260 and it may perhaps test the $0.0242 support zone.
Stellar price started a major downside move after it broke the key $0.1000 support level. XLM declined below the $0.0900 support and it recently tested the $0.0800 support. If there are more losses, the price may test the $0.0750 level.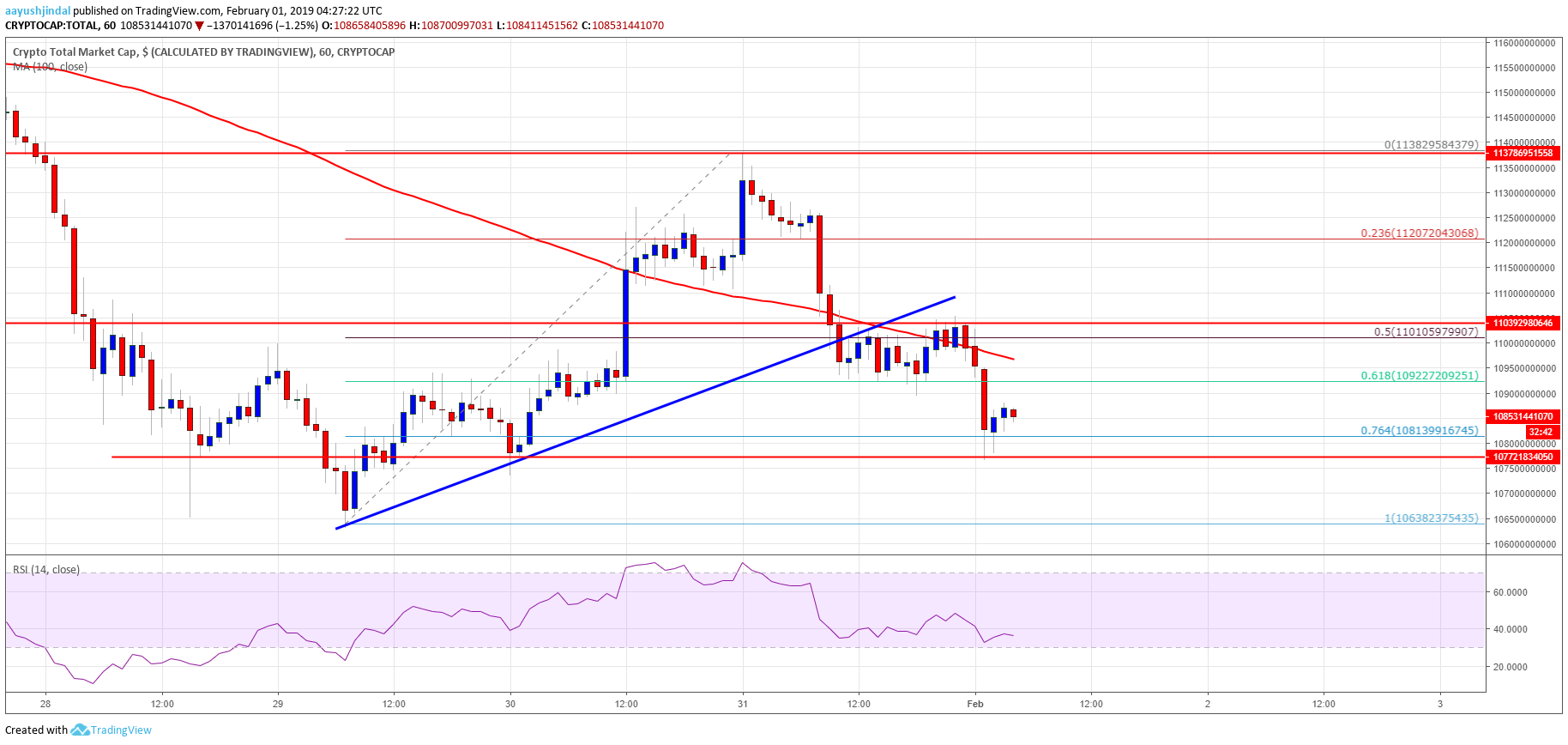 Looking at the total cryptocurrency market cap hourly chart, there was a sharp bearish reaction below the $112.00B and $110.00B support levels. The market cap tested the $108.00B support and it is currently consolidating losses. However, there is a risk of more losses below the $108.00B and $107.00B levels. Therefore, bitcoin, Ethereum, EOS, litecoin, ripple, XLM, BCH, ADA, TRX and other altcoins remain at a risk of more losses.
Sources:::  Newsbtc
Author: Temitayo Olojede , temity@bitkonga.com