Ethereum (ETH) has broken its month long uptrend against Bitcoin (BTC) which has now got the bulls worrying that this might be the end of the uptrend and Ethereum (ETH) could fall against Bitcoin (BTC) in the days ahead. While it is true that ETH/BTC is expected to decline a lot harder long term when the market begins its next downtrend, it is important to realize that there is still plenty of room for the market to rally near term. The 4H chart for ETH/BTC shows that even though the pair has broken below the trend line support, it has not given up and has been struggling to climb above it repeatedly for the past few days.
ETH/BTC is currently trading above the 200 EMA. If it finds support at this level, we can see a retest of the previously broken trend line support which would now be a trend line resistance. Even if ETH/BTC fails to break past this resistance, it could still make further gains against Bitcoin (BTC). The price of Ethereum (ETH) has been trying to find support atop the $144 level which is the 61.8% fib extension level from the December low to the yearly high. If it succeeds in finding strong support above this level over the next few days, we could expect a rally past $152 potentially towards the $160s in the days and weeks ahead. Ethereum (ETH) has yet to decline below the 38.2% fib extension level against Bitcoin (BTC). Until and unless that happens, there is still a good chance that the bulls could come to the rescue.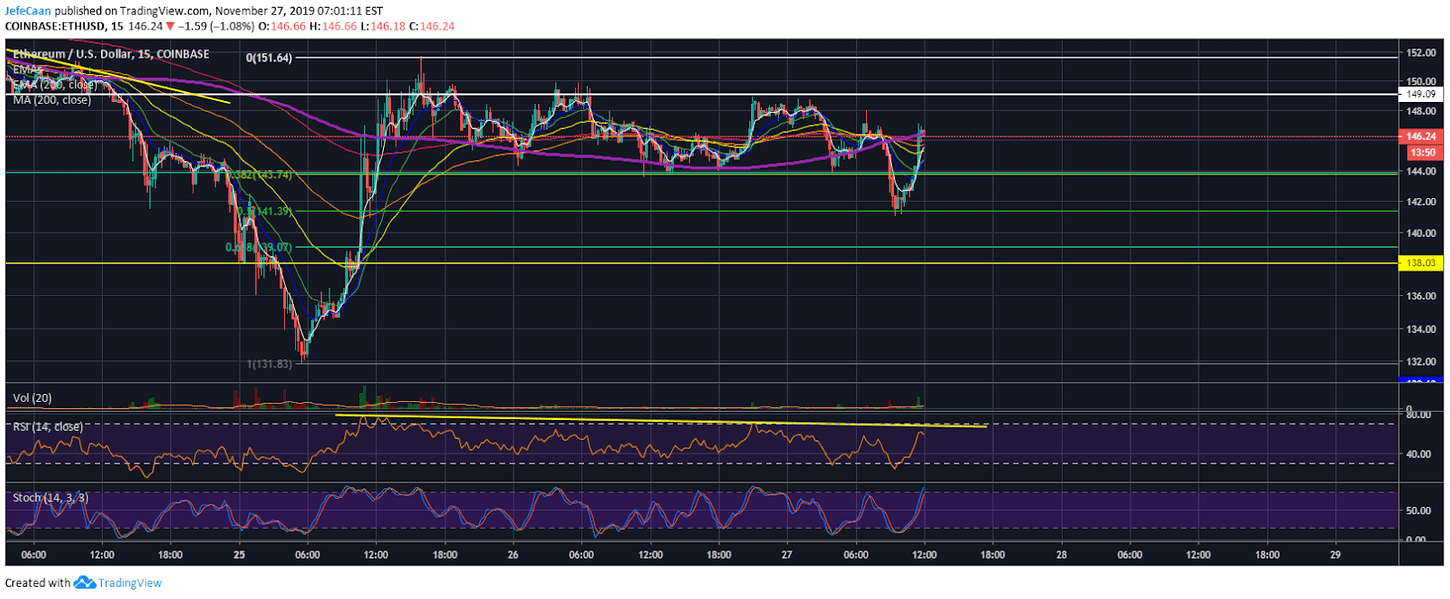 Ethereum (ETH) has run into the 200 MA on the 15 min chart for ETH/USD. There is a good chance that we could see it decline back towards the 38.2% fib extension level near term but the bulls could rescue the price to temporarily push it towards $152 and higher in the days ahead. The funding rate for Ethereum (ETH) still remains favorable for short selling which is good for hedging opportunities.
The longer Ethereum (ETH) stays close to the $144 level, the higher the probability that it going to eventually decline further below it. This is why it is important that we see a temporary bullish reversal in the next few days. If it does not happen soon, then the bulls would find it very hard to take control. At the moment, the market makers and the whales have no incentive to crash the price again without trapping in more bulls and shaking out more bears.
Source: cryptodaily