Throughout the trading history of the cryptocurrency market we have seen certain patterns repeat over and over again.  This is largely due to the fact that most of the trading activity in this market is dominated by bots and algorithms.  This time we're seeing another pattern repeat that we saw just last month.  This pattern comprises of a fall followed by a rise and then sideways movement followed by a crash. The 4-Hour chart for ETH/USD shows how clearly the price is repeating that same fractal again.  We're currently in the sideways movement part of that fractal which means that Ethereum might be close to seeing another sharp decline in the near future.  Such a decline is very likely to pull the price down to $100 which is a strong psychological support.
Ethereum like the rest of the altcoin market stands to lose a lot more compared to Bitcoin. Just recently we saw YouTube crackdown on cryptocurrency channels while Facebook has been doing the same for cryptocurrency related advertisements. Considering that cryptocurrency and blockchain technology is a very hot industry at the moment these text James when we distancing themselves from it if they didn't know what was about to come. The next crash in the cryptocurrency market is going to be a lot different than those that we have seen before because we're likely to see a cleansing in the altcoin market which would wipe out many of the useless coins and tokens. Such a scenario is likely to inflict maximum pain on the cryptocurrency market because investors in this market have become far too comfortable investing in risky tokens built on the Ethereum blockchain.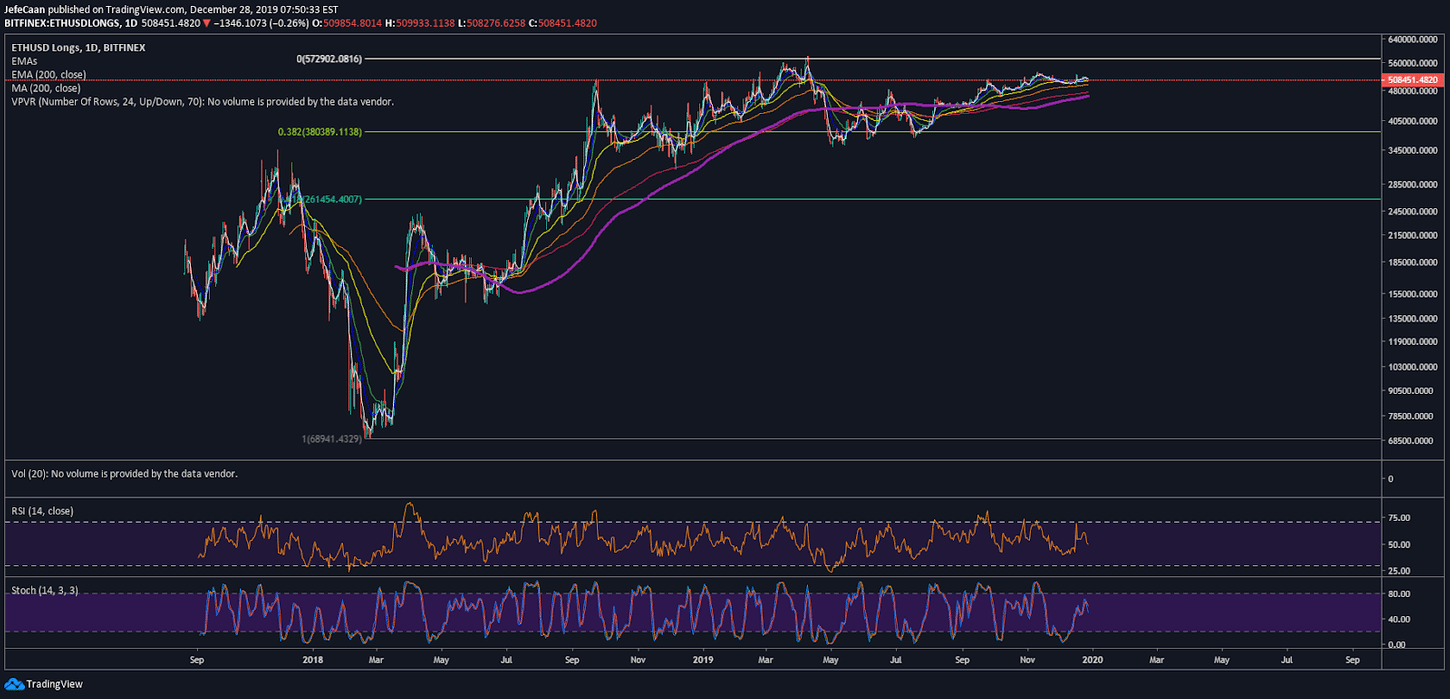 The daily chart for ETHUSDLongs tells us that there is still room for further upside before it tops out. This means that Ethereum could see one last rally towards the $130.63 level in a very bullish scenario. Both the RSI as well as the Stochastic indicators on the 4H timeframe indicate that there is room for such a rally. Meanwhile Ethereum longs have been on a continued rise for the past several weeks and months. Such bullish optimism is not likely to end well and as we have seen before this has led to major liquidations in the cryptocurrency market.
It is going to be very painful when the price declines down to the $100 level but it is going to be a lot more painful if the price declines below the $100 mark because that is where a lot of traders have their stops. The market makers and whales have been preying on both sides for as long as this market has been around. To them it makes no difference whether they shake out the bulls or the bears as long as they get to do both. Recently many retail bears were surprised by a sudden pump to the upside but it is still not enough because the market makers and the whales have yet to shake out more bears looking to ride the wave down. The goal is not just to shake out the bears but to trap in as many bulls as possible before the next crash. It is therefore important to keep an eye out for one last potential pump to the upside before the major downtrend begins. However, it is important not to confuse that potential pump with a bullish reversal unless we have clear follow through.
Source: CryptoDaily